Post Conference Tour: June 15th 2012



Hsinchu Science Park & The One Trip




The National Science Council set up the Hsinchu Science Park (HSP), the first establishment of its kind in Taiwan, on December 15, 1980. By ushering in technologies and talent from abroad, bringing about the transformation of domestic conventional industry, and fostering the upgrade of industrial technology across the board, the park is intended to help high-tech industry take off in Taiwan.





The owner of NanYuan, Wang Tih-Wu, appreciated the talent of the architect, Han Pao-de. They created a land of grand retreat, combining the southern, Jiangnan-style garden and the Fujian-style architecture. Twenty-seven hectares of endless green is just like celestial terraces and pavilions. Starting from 1983, a competition of exquisite craftsmanship embarked. Precious cypress wood joined through the traditional mortise and tenon was selected and decorated with camphor wood, with carved folk tales or auspicious patterns. Hundreds of fi ne craftsmen were mobilized to finish it on site. NanYuan was completed in September 1985 and was named after Wang Tih-wu's father, Fu-nan. Receptions for the British Prime Minister Margaret Thatcher, the Russian President Mikhail Gorbachev, etc. were hosted here. It was also served as the recreation center for the United Daily News staff. Because it was not open to public, it was veiled with mystery until the end of 2007.

Itinerary

09:00 Depart

17:00 Back to hotels

Fee: USD$30 per person (to be paid at registration)
Guided Tour
§ South East Travel Service Co. Ltd.

http://www.settour.com.tw/eweb/other/new_English-20110309/index00.asp
It offers 20 different travel routes.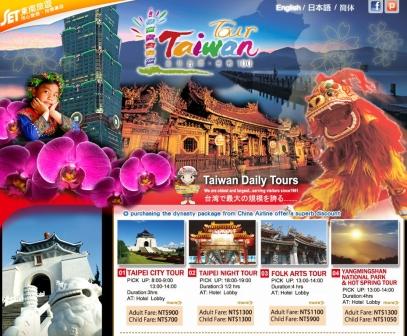 Please indicate PET12 participants at the "special request" column of the reservation form for a special discount.
§ Golden Founders Travel Service Co. (Reservation form)
http://51.travelnet.com.tw/webeip/ht00051/en.asp
It offers 12 different travel routes.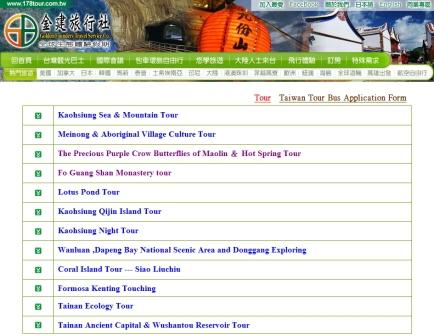 Taipei City Government

§ For all the latest news and government regulations about Taipei City, please click on http://english.taipei.gov.tw/MP_100002.html

§ Information for Foreigners: http://iff.immigration.gov.tw/mp.asp?mp=T002

Maps

§ Map of Taipei Amusement: http://mota.taipei.gov.tw/mota2/public/index.aspx?lang=2

§ Taipei e-Map: http://163.29.36.21/eGISmap/index.aspx?slang=en-us

Taipei Travel Net

§ Discover all the attractions and travel information in Taipei: http://www.taipeitravel.net/

§ Travel King: http://www.travelking.com.tw/eng/

§ Tourism Bureau: http://www.taiwan.net.tw/

Landmark

Taipei 101, formerly known as the Taipei World Financial Center, is a landmark skyscraper located in Xinyi District, Taipei, Taiwan. The building ranked officially as the world's tallest from 2004 until the opening of the Burj Khalifa in Dubai in 2010. The tower has served as an icon of modern Taiwan ever since its opening, and received the 2004 Emporis Skyscraper Award. Fireworks launched from Taipei 101 features prominently in international New Year's Eve broadcasts and the structure appears frequently in travel literature and international media.
Source: Taipei Travel Net & Taipei 101 Website
The Botanical Garden covers an area of about 15 hectares and includes over 1500 plant species. There are 17 districts in the garden, exhibiting various plants. The 9 ponds are also designed to grow different plants. There are two buildings in the botanical garden currently listed as historical structures. One is a Qing Dynasty era administrative office build in 1888 and relocated to the garden in modern times. The other is a herbarium.
Maokong is a suburb of Taipei. It sits on the edge of Taipei Basin, and is located in Wenshan District of Taipei, Taiwan. The area used to be the biggest tea growing area of Taipei. There are many intertwining footpaths which have been used to transport tea. Now, it is a popular place for tea culture and viewing the night scenery of Taipei City. Maokong still produces some tea, most notably tieguanyin tea. Many restaurants in the area offer both good tea and food. A combination of traditional tea culture, food, and scenery are the main reasons the area has become a popular tourist destination.
Source: Taipei Metro Website
One of the eight national parks in Taiwan, the Yangmingshan National Park is located between Taipei City and New Taipei City, Taiwan. The districts that house parts of the park grounds include Taipei's Beitou and Shilin Districts; and New Taipei's Wanli, Jinshan, and Sanzhi Districts. During the Japanese occupation era of Taiwan, it was known as Datun National Park. The National Park is famous for its cherry blossoms, hot springs, sulfur deposits, fumaroles, venomous snakes and hiking trails, including Taiwan's tallest and one over the extinct volcano Seven Star Mountain.