Newport Beach, an opulent seaside community located on southern California's Orange County coastline between Los Angeles and San Diego, epitomizes the quintessential southern California lifestyle. Known for its picturesque views of the Pacific and one of the world's largest small yacht harbors, the city is acclaimed for its beaches, outdoor recreation, sophisticated atmosphere, international film festival, three annual epicurean festivals and the oldest holiday boat parade in the nation.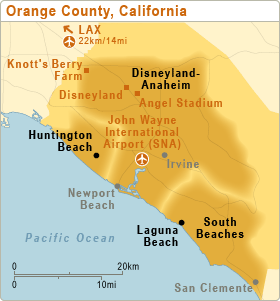 Location
Situated 55 miles south of Los Angeles, 85 miles north of San Diego and 26 miles from Catalina Island, on the coast of Orange County.
Accessibility
Newport Beach is accessible from nearby John Wayne/ Orange County Airport (located within 5 miles of area hotels); Long Beach Airport (located 20 miles north); and Los Angeles International Airport (located 50 miles north)
Climate
Year-round temperatures average about 75 degrees
Neighborhoods of Newport Beach
Nine district neighborhoods make up Newport Beach, each lending to the city a unique culture, charm, natural beauty and history. They are: Balboa Island and surrounding islands, Balboa Peninsula, Corona Del Mar, Mariner's Mile, Cannery Village, Back Bay, Airport/Business District, Fashion Island and Newport Coast/Crystal Cove.
Attractions and Activities
Newport Beach is known for the affluent, sophisticated lifestyle that its residents lead, and that visitors can get a taste of when they are here. Championship golf courses, countless spas, a recreational yacht harbor, world-class shopping, whale-watching and over 350 dining choices are just a few of the many activities within reach.